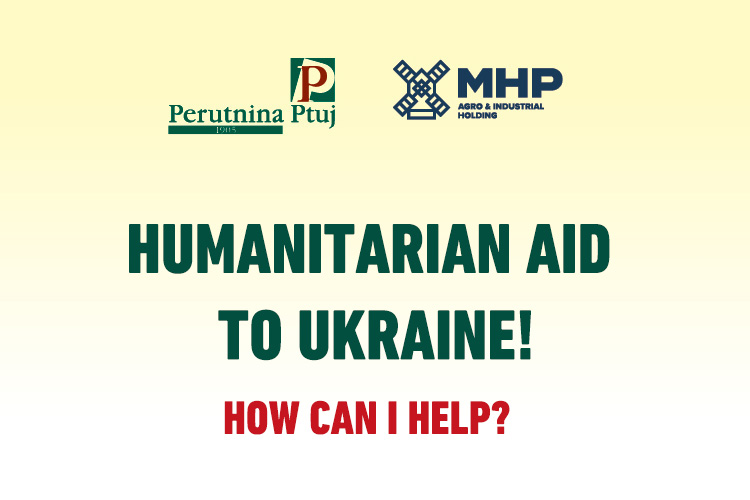 We invite you to join us and help Ukraine!
Through our more than 115-years of tradition, we have always responded to the humanitarian needs of the local and global community. That is why we want to do everything we can to help Ukraine today. We also invite you to join us and help our colleagues from Ukraine, their families and acquaintances, mothers and children who lost their homes overnight. You can help by making voluntary contributions to the MHP GROMADI Foundation, offering free accommodation for refugees, or otherwise making a humanitarian contribution.
Contact us at info@perutnina.eu or call 02 74 90 680. 
Thank you for joining us and let us show solidarity together!
Donations
Financial aid is collected by the Embassy of Ukraine in Slovenia and the MHP GROMADI foundation, which operates under the auspices of the MHP.
Several Slovenian organizations have been involved in raising funds to help in various fields.
More detailed information about the transfer:
Embassy of Ukraine in the Republic of Slovenia
Mivka 27, 1000 Ljubljana, Slovenija
IBAN: SI56 028430264124681
Swift: LJBASI2X
Nova Ljubljanska banka d.d., Trg republike 2, 1000 Ljubljana
Financial donations are also collected by MHP's foundation, which operates under the auspices of MHP.
MHP's  foundation GROMADI
Legal entitiy: CO »CF »MHP-GROMADI«
Enterprise code: 39832275
Acc. Num: UA413510050000026000878971724
Bank Name: JOINT STOCK COMPANY »UKRSIBBANK«
Donations in EUR
JSC »UKRSIBBANK«
Ukraine, Kyiv, 04070, St. Andriivska, 2/12 EGRPOU 09807750
SWIFT: KHAB UA 2K
IBAN UA393510050000026002635992900 Correspondence Bank:
BNP PARIBAS SA, Paris, FRANCE Account # 07205696
SWIFT: BNPAFRPP
Donations in USD
JSC »UKRSIBBANK«
Ukraine, Kyiv, 04070, St. Andriivska, 2/12 EGRPOU 09807750
SWIFT: KHAB UA 2K
IBAN UA393510050000026002635992900 Correspondent Bank:
BNP PARIBAS USA., New York, USA Account # 020061151200138
SWIFT: BNPAUS3N
Helping refugees
PROVIDING ACCOMMODATION OPTIONS
Many refugees from Ukraine who need help have come and will come in these difficult times. We invite you to join good people and help to the best of your ability. To join helping in our coordination, you can also contact us at info@perutnina.eu.
Humanitarian Aid
Nuts
Canned food
Noodles
Cereals (wheat, corn, buckwheat, oats)
Coffee, tea
Rusks
Sausages, which do not require refrigiration
Packed biscuits
Sweets
Food for children
Baby food
Bottled water
Thermal underwear
Warm gloves
Socks
Towels
Rain coats
Mattresses
Yoga mats
Folding beds
Thermal blankets
Sleeping bags
Blankets
Pillows
Bed linnen
Batteries
Candles
Torches
Powerbanks
Extension cords
Plates, cutlery
Rubbish bags
Combs
Domestic cleaning products (for dishes, laundry)
Shampoo
Toiler paper
Soap
Razors
Tooth brushes
Tooth paste
Nappies
Sanitary pads
Paper towels
Lip balm
Baby powder
Wet wipes
Disinfectants
Gauzes
Non-woven bangages
First aid kits
Painkillers
Collection point: Letališka cesta 32a, Perutnina Ptuj d.o.o. (8:00 - 20:00)
Medical and Military
Tents
Mats
Sleeping bags
Field beds
Chainsaws
Energy generators
Tarpaulin
Knee pads
Shoulder pads
Camouflage nets
Aliuminium blankets
Individual sterile gauzes with elastic compress component and a water resistant shell
Chemicals for stopping bleeding (hemostatic bandage and other hemostatic agents)
Gel-based occlusive thoracic bandage (with or without valve)
Thermal blankets
Mechanical means to stop bleeding type CAT, tourniquets
Nasopharyngeal airways (tube)
Scissors for cutting clothes and shoes
Medical gloves
Non woven bandages
Gauzes
Collection point: Letališka cesta 32a, Perutnina Ptuj d.o.o. (8:00 - 20:00)
Humanitarian aid - collection centers
The first trucks of humanitarian aid travel from Slovenia to Ukraine.
Perutnina Ptuj joined the all-Slovenia campaign to collect humanitarian aid, which brought together Ukrainians living in Slovenia and companies associated with Ukraine. We have established two collection centers at our warehouses: in Ljubljana at Letališka cesta 32a and in Ptuj at Potrčeva cesta 10.
In Slovenia, it is also collected in Ljubljana at Mesarska cesta 4f and in Maribor at Minarikova ulica 8.
They report that the first aid packages are already on their way to Ukraine. So far we have sent 3 trucks.