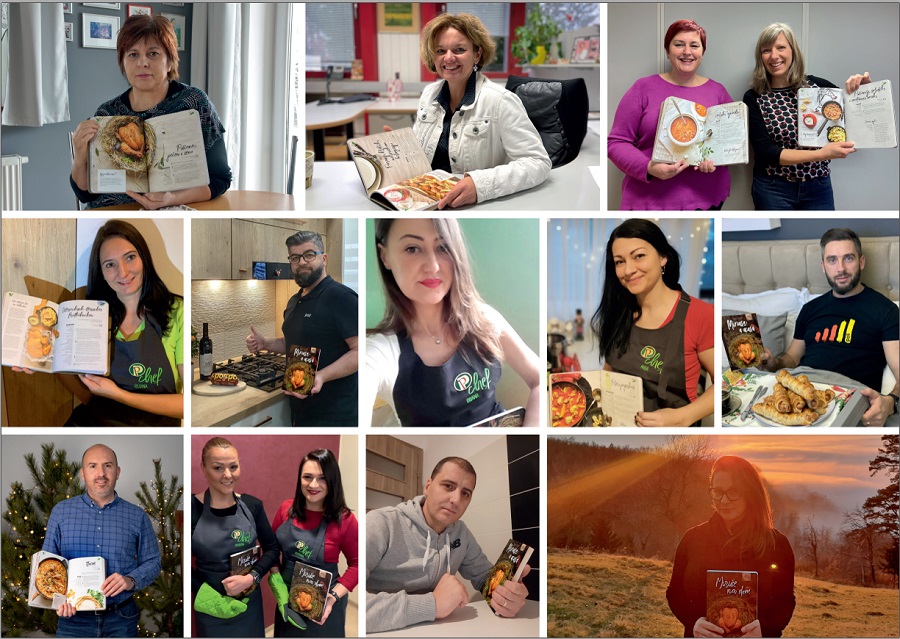 The 115th anniversary of the company, which was celebrated this year, was marked in the Perutnina Ptuj Group with the publication of the cookbook Smells like Home, for which recipes were contributed by employees from all seven countries. 
Since 1905, when the first poultry purchase location was established in Ptuj, throughout the 11 decades until today employees have been a key factor in the growth and success of the Perutnina Ptuj Group. That is why we decided to dedicate this anniversary, marking more than a century of our company, to our employees and their home kitchens. Sunday lunches, family barbecues and festive dinners surrounded by your loved ones let you savour the endless riches of flavours, dishes and memories.
Just like tasty food beckons you to join everyone at the table, care for quality and creation of a variety of flavours links us in Perutnina Ptuj. We asked employees in all seven countries - in Slovenia, Croatia, Bosnia and Herzegovina, Serbia, Northern Macedonia, Romania and Austria - which aromas one might encounter in their kitchen and invited them to share recipes of their favourite chicken dishes which were already prepared by their grandmothers. By passing on to new generations, some recipes have been given a modern touch with new ways of preparation or new ingredients, and some recipes have been the inspiration for creating new dishes.
 
The anniversary was an opportunity for employees to become even more connected by collecting recipes, despite the required social distancing due to the pandemic.
Through an internal recipe collection campaign, we also promoted corporate values such as collaboration and creativity and received a number of recipes from all seven countries. Some browsed through handwritten recipes of their grandmothers 'recipes, others created new ones, and some even prepared great photo stories how to prepare a selected dish. Together, we have created a collection of recipes from the wider region enriched by the variety of flavours and dishes, although culinary tradition may intertwine in some recipes. The collection was enriched with a few recipes from chefs and influencers, with whom we cooperate in creating new dishes. Among the received recipes, we then made a final selection with the professional culinary magazine Dober tek (Bon Appetit) who also arranged the recipes accordingly. All selected recipes were then cooked by food stylist Gruša Zorn and prepared for photography by renowned photographer Manca Jevšček. The editing and design of the book, which was prepared in as many as eight languages, was also done by the employees of Perutnina Ptuj. Thus, the book was given to business partners with great pride at the end of the year as a New Year's gift.