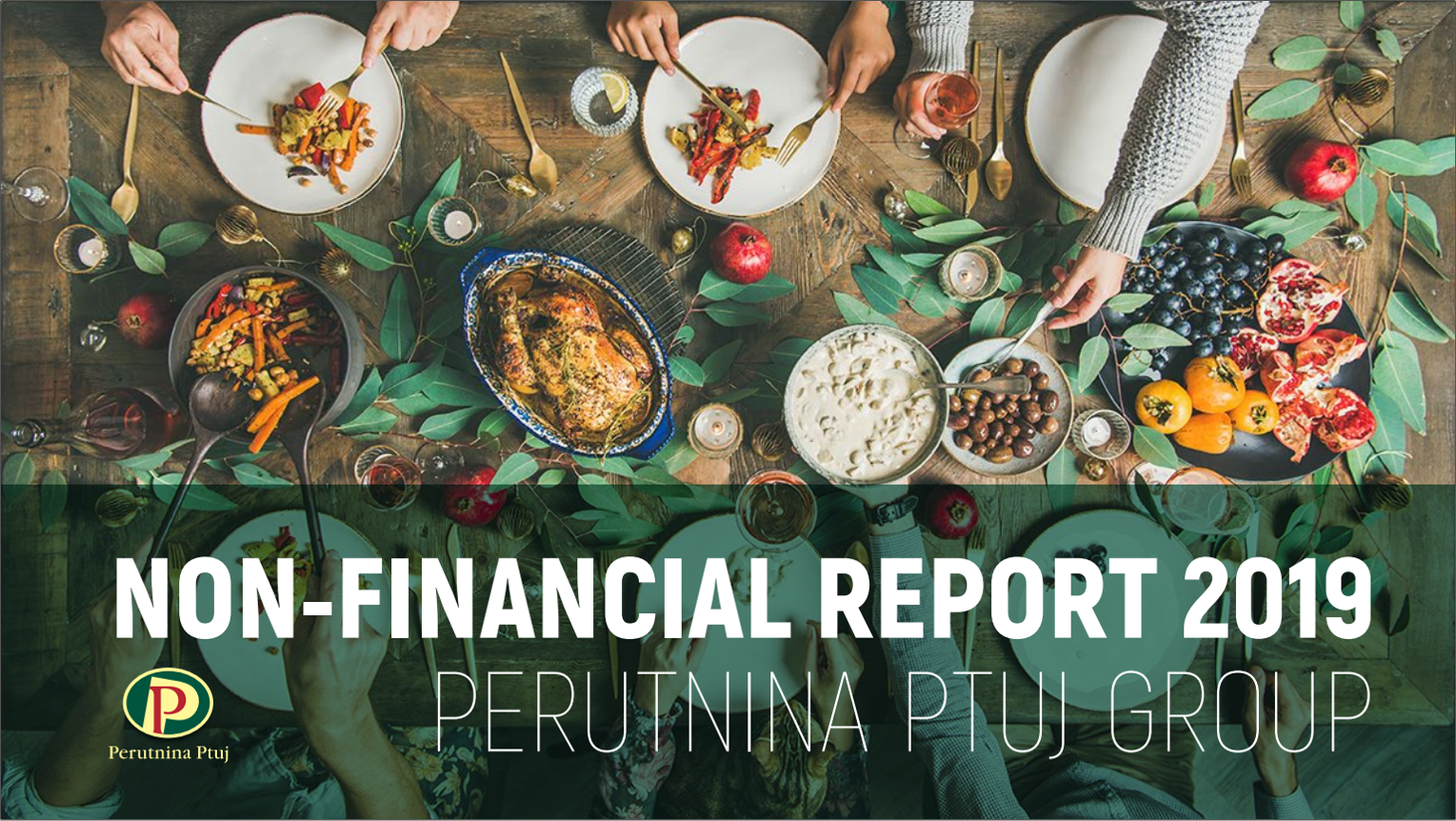 For the first time in 2019, the Perutnina Ptuj Group prepared a non-financial or sustainable report in which we report on our impact on the environment, employees, product quality and safety, animal welfare, supply chain and relations with the company's stakeholders according to the guidelines of the GRI Sustainability Reporting Standard (Global Reporting Initiative).
So far, we have reported on our sustainable development as part of annual reports, the transition to independent sustainable or the non-financial report clearly reflects our serious approach and strategic orientation towards sustainable development. In a report prepared under the guidelines of the International Standard for Sustainability Reporting GRI, we report on our economic, environmental and social impacts.
 
Here are some key indicators of the report:

ENVIRONMENT
In 2019 we decreased the usage of non-renewable materials by 1 percentage point compared to 2018, in spite of the increased total usage of materials by 2 percentage points.
We also increased the fuel consumption from renewable sources by 2 percentage points compared to the previous year. Total fuel consumption was 1 percentage point higher in
2019 than in 2018.
Our greenhouse emissions of CO2 were 107 tonnes lower in 2019 compared to emissions in 2018.
ANIMAL WELFARE
In 2014 Perutnina Ptuj was the first in Slovenia to introduce a new standard of premium poultry breeding that follows the latest findings on the well-being of animals and exceeds the EU legislative requirements.
In 2019 we had 18% of our breeding facilities in Slovenia working upon this standard.
PEOPLE
In 2018, we had 1.38% staff turnover and in 2019 1.47%. The slight increase of fluctuation was due to the execution of retirement plans and the start of generational exchange.
In 2019 we had 75 % less high-severity accidents, but we detected an increase by 15 % in low-severity accidents.
PRODUCT QUALITY AND SAFETY
In 2018 and 2019, we received no significant complaints about product quality and information from consumers.
At the 40th International Meat Products Assessment under the auspices of the AGRA fair in 2019 Perutnina Ptuj was awarded the prestigious Jubilee Quality Carrier Award. Fifteen of our products were awarded the title Quality Champion and another 24 products received medals for their quality.
SUPPLY CHAIN
71% of our suppliers are local, which means that they have legal entity in the same country as the company of Perutnina Ptuj Group that uses them.
By working mainly with local suppliers our shorter supply routes positively impact our greenhouse emissions and environment and on the other hand contributes to the economic development of local society.